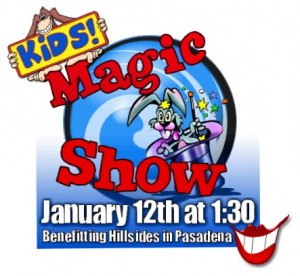 Press Release posted 1/9/12 – The Children's Magic Workshop is an international group of just more than a dozen of the world's best magicians for children. Each year, they gather somewhere in the world to share and create new magic. This January 7-12th, they are coming to Los Angeles, home of the World Famous Magic Castle, and are performing for the public, to benefit Hillsides in Pasadena. Thanks in part to a generous donation by A Noise Within Theater in the heart of Pasadena, they are able to raise funds for Hillsides, who, for the past 100 years has provided excellent care and education for at risk youth. It's magic for children benefitting children!  And, oh what a magic show it is! For the first time ever in a public show, some of the finest children's magicians from England, Puerto Rico, Mexico, Croatia, and the US of A: New York, Boston, Atlanta, and Los Angeles, will be performing only their best, most amazing and most FUN magic for one show only, at the prestigious Noise Within Theater in Pasadena, January 12th at 1:30PM. Amazing magic – amazingly fun!
The members of the Children's Magic Workshop include only the best, award-winning children's magicians from around the world. Appearing in this show are renowned performer and author of what is considered the bible for children's performers, Silly Magic, Silly Billy from New York City; Puerto Rican magician SHABUM, the star of his own series on Telemundo; from Mexico City, Jouquin Kotkin, who is currently on tour with the spectacular magic show The Illusionists; from Masters of Illusion, Los Angeles magician and Magic Castle favorite Dave Cox – Abracadave; from England, fresh from a run on the children's show Hoopla!, the masterful magician and ventriloquist Jon Kimmons; from Boston, the star of Abrikidabra, Mike Bent, who was named Nickelodeon's Magician of the Year; from Atlanta, where he has performed his award-winning magic for over a million delighted fans, Ken Scott; and from Croatia, the wonderful Jozo Bozo, a magician that's so popular that ALL children's magicians in Croatia are now known as Jozo Bozos.
Hillsides provides care for at risk youth. Founded 100 years ago, HILLSIDES' mission is to create safe places for children, strengthen families, provide special education; and advocate for children's rights. This Southern California non-profit creates safe places for children in its residential treatment program where children living in the group homes are in foster care or have been referred by the Department of Mental Health. While on the campus, they reside in a secure, stable environment which enables them to heal and rebuild trusting relationships with adults.
A Noise Within Theater
3352 E. Foothill Blvd. Pasadena, CA 91107
Saturday, January 12th at 1:30PM
Tickets available online at http://magicforhillsides.brownpapertickets.com
$10 for kids, $20 for adults, $15 VIP Kid Ticket assures front of house seating and includes a free magic wand! Bring 3 kids, and an Adult gets in at the Kid Price! A Rare Treat for All Ages, 3 years and up!