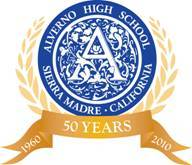 Press Release posted 1/9/13 – As a new year begins, Alverno High School would like to invite members of the local community to attend the Third Annual Alverno Service Fair on Thursday, January 10 from 2:00 p.m. to 2:45 p.m. The fair will showcase self-created projects by Alverno's senior class ranging from fighting abuse and cancer to providing funds for schools and art programs.
In Alverno's senior Theology course, Contemporary Social Issues, students have explored the social injustices that taint our world. Our students have been challenged to take ACTION. All 45 seniors have created or become involved in a service project molded by their own passions, ideas and concern for the social issues in today's world—but this action is nothing without the support of the local community.
The students have worked very hard and will have the chance to showcase their projects to their fellow students and our local communities at this fair. Each student has created a PSA for their project that may be viewed by clicking on this link: Alverno High Service PSA videos.
At the fair on Thursday, there will be a chance for members of the Alverno and local community to sign up for volunteering opportunities. Many desserts, fresh salads, and other specialty items will also be on sale. Homemade items for sale will include jewelry, hand-painted goods, crafted pop culture pins, jewelry created from puzzle pieces, neck warmers, cheer bows, beautiful flower pens, notebooks, folders, and pillowcase dresses. ALL proceeds will go to student projects and organizations. The event will be co-hosted by Alverno's Christian Service class.
The organizations below are those students have volunteered or worked with, which will be represented at the fair: Angeles Mesa Elementary School, Bad Weather Shelter (Pasadena), Children's Hospital Los Angeles, Community Companion Animal Hospital (Temple City), Door of Hope (Pasadena), Elizabeth House (Pasadena), Good Shepherd Center for Homeless Women and Children (Los Angeles), Hillsides (Pasadena), Junior Diabetes Research Foundation (JDRF), Keep it Kind, Kids Enjoy Exercise Now (KEEN), Maryvale (Rosemead), One More Reader , Our Lady of Guadalupe School, School on Wheels, Soldier's Angels (Pasadena), St. Clare Mission (Tanzania), Surfrider Foundation, Talk About Curing Autism, The Gentle Barn (Santa Clarita), The Girl Effect, and Wild Aid.
Many students have created their own small projects, ranging from fighting for animal rights, equality, ending child abuse, providing supplies for schools, aiding those with developmental or physically disabilities, those with incurable diseases, funding for girls' education and cleaning up our local beaches.
Additional students have created internal programs to prevent loneliness or depression. There will be many collections happening on campus throughout the next two months as a part of these projects including a book drive, a baby item drive, school supply drive, and collecting items for packages to be sent to soldiers, and a kindness letter writing campaign.
"The Service Fair is a perfect example of how one individual can make a tremendous impact on her community," said Ann Gillick, Head of School. "Each of these young women chose a project that meant something to her and in turn made that project important to our entire community. A commitment to service and community is a basic tenet of our Franciscan and Immaculate Heart roots and just one of the ways Alverno empowers each young woman to be exactly the person she wants to be."