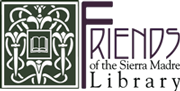 Press Release posted 4/7/13 – The 51st annual Friends of the Sierra Madre Library's Art Fair will be held in Memorial Park, 222 West Sierra Madre Blvd, Sierra Madre, on Saturday, May 4, from 9:30AM to 6:00PM and Sunday, May 5, from 9:30AM to 5:00PM.  More than 90 artists will be displaying and selling their fine arts throughout the weekend.  Mediums include oil painting, jewelry, water colors, glass, wood, metal, photography, pottery, ceramics, mixed media, and weaving.   The Art Fair will be the place to be to find that perfect Mother's Day, graduation, or wedding gift and to find pieces that you will be proud to wear or to display in your home.
Live music will be featured throughout the weekend in the band shell and on the south lawn.  Guests will enjoy an eclectic selection of music ranging from country jazz to Latin to classical flute and guitar. A food court will offer a variety of food and drinks provided by local non-profit groups as well as food vendors.  And, of course, the Friends of the Library will have a booth selling their famous sweet breads and quick breads.  For the children, the Creative Arts Group has planned a Chinese kite making activity on Saturday and Sunday from 10am-4pm.
This year we will again have a silent auction.  So far, forty of the artists who are displaying and selling their creations at this year's fair have donated lovely, one-of-a-kind pieces for the auction which means that you'll have a chance to bid on some really beautiful artwork.
So come early and stay all day.  Browse through the wonderful displays of artwork, sit on the lawn and listen to music, have a little lunch, check on your silent auction bids, and then go back and purchase those lovely pieces of art that have been calling your name ever since you spotted them.   Proceeds from the Art Fair benefit the Sierra Madre Library.  For more information, visit our website at www.SierraMadreLibraryFriends.org or call 626 355-7186.