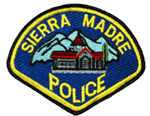 Posted 4/22/13 – Sierra Madre Police Department Police Blotter Report,  April 15-21, 2013
Wednesday, April 17, 2013
At 11pm, an officer observed a vehicle travelling east on Foothill Boulevard at Baldwin Avenue and noticed that a headlamp was not operating.  After making a traffic stop, the officer determined that the driver was exhibiting symptoms of alcohol intoxication. The driver was unable to satisfactorily perform the Field Sobriety Tests and was subsequently arrested for DUI.
Friday, April 19, 2013
Overnight, an unknown suspect vandalized the signs on the Chantry Road gate with black spray paint.   The number 18 and the letters E and S were visible on the "Road Closed" signs that are affixed to the gate.  No witnesses were located.
Saturday, April 20, 2013
At 8:40am, a traffic collision occurred in the 00 block of east Alegria Avenue.  A resident backing out of his driveway collided with another vehicle travelling east on Alegria Avenue.  The driver of the eastbound vehicle complained of pain to his head and left side and was transported to Arcadia Methodist Hospital for treatment.  Only moderate damage to the vehicles was evident.
At 11:30pm, units responded to a report of a fight in progress in the 100 block of East Monticito Avenue.  Two individuals, who had been drinking for several hours, started arguing about matters from the distant past.  A physical fight took place and each person sustained minor injuries.  The officers accepted a private person's arrest for Battery being made by one of the involved parties.