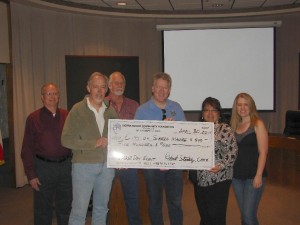 Thanks to a grant donation from the Sierra Madre Community Foundation, the City of Sierra Madre celebrated Arbor Day on Saturday with an all-morning presentation by arborist Jan Scow.  Scow's nearly three hour presentation included lengthy discussion of tree problems, planting, and the benefits of trees.  Following a two-hour slideshow presentation in Council Chambers, Scow led the audience on a walking tour of Memorial Park, discussing the trees found there.  At least six of the seven members of the Tree Commission were in the audience, as well as Director of Public Works Bruce Inman and James Carlson, also from Public Works.
lkjs
lkj
About Jan Scow (from JanScow.com): Jan Scow has worked as a consulting arborist in Southern California since 1994, when he received a BA in Geography/ Environmental Studies from UCLA, and has been a Registered Consulting Arborist since 1999. Jan was a Director of the California Urban Forests Council for six years ending in 2005, and is an active member of the California Native Plant Society, the California Oak Foundation, and the Sierra Club.
Since childhood, Jan has been involved in various aspects of horticulture. His background includes stints as a nurseryman, landscape contractor, maintenance gardener, tree trimmer, and irrigation specialist. Aside from a tour in the US Navy, Jan has been working with plants continuously since 1967. Jan brings experience from various aspects of the horticulture field to his arboricultural work.
About Sierra Madre Community Foundation (from SierraMadreFoundation.org):  The Sierra Madre Community Foundation serves as a steward for individuals, families, foundations and business organizations seeking to maximize their long-term philanthropic impact for the benefit of the Sierra Madre community. The Foundation serves as a resource for building and preserving permanently endowed funds that enhance the welfare of the residents and generally enrich the quality of life in Sierra Madre.