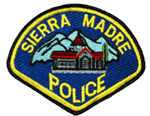 Posted 1/12/14 – Sierra Madre Police Department Police Blotter Report, January 5-12, 2014
Monday, January 6, 2014
At approximately 1am, officers responded to a burglary alarm activation at the drug store located at 29 North Baldwin Avenue. On arrival, it was discovered that the front door to the business had been pried open.  The suspect fled prior to the arrival of officers but still managed to enter the business and remove several bottles of Oxycodone from the pharmacy section.  It is estimated that the suspect was inside the business for less than one minute. No witnesses to the crime were located.
Saturday, January 11, 2014
At 1pm, a resident in the 300 block of North Lima Avenue observed a grey Jeep pull up next to a gardener's truck that was parked at the curb.  One individual exited the Jeep with a pair of bolt cutters, broke the tailgate lock on the truck and started removing a lawn mower from the bed of the truck.   The suspect dropped the mower and ran back to the Jeep when he saw the resident watching him.  The vehicle drove north away from the location and out of sight.  Several thefts from gardener trucks have been reported recently.