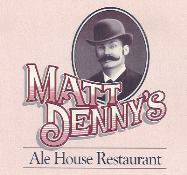 Posted 1/12/14 –  I can't believe Matt Denny's has been open for 15 years already! I have my beer mug from their 10th anniversary bash in my freezer and use it often! Thank you Matt & Pam and your family & staff for 15 years of great food and fun! My family & friends have celebrated many an occasion at your fine establishment. Keep up the great work!
See the info. below about their 15th Anniversary Party on Sunday January 19th.  I regret that I will be out of town that weekend, so hoist a few for me!
*EVERY SUNDAY – BARRY "BIG B" BRENNER @ FIREFLY BISTRO IN SOUTH PASADENA, 11am – 2pm.  1009 El Centro. 626-441-2443.  Sunday BLUES Brunch!  http://www. bigbbrenner.com/
 *EVERY MONDAY – Quiz Nite trivia with hostess Deanna Cogan is at Lucky Baldwins Delirium Cafe in Sierra Madre at 8:30.  Arrive by 8:15 PM to secure a table for up to 4 on a team.  Entry fee $2 per person.  Win gift cards to the restaurant! Fun and profitable! 21 Kersting Court. (626) 355-1140   http://www.luckybaldwins.com
*EVERY TUESDAY – "JC Hyke & Friends Songwriter Serenade" @ MATT DENNY'S ALEHOUSE & RESTAURANT IN ARCADIA, 7 – 9:30pm. 145 E. Huntington Dr., between 1st & 2nd Aves. 626-462-0250. Full bar & kitchen, all ages. A weekly acoustic show of songwriters playing original songs, either as a solo or duo act, outside on the covered, heated patio. For this week's artists, go to:  http://www.jchyke.com/
*EVERY WEDNESDAY – "WINE & SONG" @ Firefly Bistro in South Pasadena with host Brad Colerick, who also performs each week. 7-10pm. Full dinner menu available or tacos, tapas and beer & wine specials that changes weekly.  1009 El Centro St. (just a couple blocks west of Fremont, south of Mission, near the Mission Street Gold Line station) 626-441-2443. For this week's featured artists go to: http://wineandsong.com/schedule
*EVERY THURS. – BARRY "BIG B" BRENNER @ FIREFLY BISTRO IN SOUTH PASADENA, 6 – 9pm.  1009 El Centro. 626-441-2443.  Burgers , Brews & BLUES.   http://www. bigbbrenner.com/
SAT. 1/18 – MERCY & THE MEERKATS @ THE BUCCANEER LOUNGE IN SIERRA MADRE, 9pm. 70 W. Sierra Madre Blvd. 626-355-9045. Full bar, no cover, friendly service! Mercy & the Boys – Rock, R&B, Soul, etc.
Sunday, January 19th  
MATT DENNY'S 15th ANNIVERSARY!!!
The BIG Bash 
 The Alumni Band
Time to be announced soon
Great Prizes
and reduced prices on all Matt Denny's Wear
15th Anniversary Glassware and T-Shirts
 Happy Hour All Day
 Complimentary Appetizer Buffet  
from
 3 to 7 p.m.
145 E. Huntington Dr. between 1st & 2nd, Arcadia
parking on street or in lot behind
 SAT. 1/25 – TOO MANY STEVES @ GEM CITY GRILL IN MONROVIA, 9pm. 115 E. Olive Ave., just East of Myrtle, 3 blocks N. of Huntington Dr. Bobby Ross' bar – no cover, full bar, big dance floor, pool tables. Steve Vargas, Steve Ysais & Steve Reiners of Horses on Astroturf, Steve Bruen of Snotty Scotty & the Hankies and Steve Powell of Mercy & the Merkettes.  Celebrating my brother Stevie B's B-day. All other Steves encouraged to attend!
Here's a little bit of musical humor my son sent me that I hope you enjoy. (Rated PG13, language)
http://www.youtube.com/watch?v=YNTARSM-Fjc
*Please remember to call and verify all info. before making plans.  Everything is subject to change.  This is show biz, after all…
 Hope to see you out & about,
SierraMadreSue