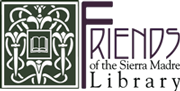 Press Release posted 1/18/14 – Vintage books will be featured at the next Friends of the Sierra Madre Library's Best Used Book Sale to be held in the basement and back parking lot of the library on Friday, February 7, 2014 from 3:00-7:00 p.m. and Saturday, February 8, 2014 from 10:00 a.m. to 2:00 p.m.  We have some wonderful sets such as "Journeys Through Bookland" (1909), "The World of Mark Twain"(1924), and the complete set of "Abraham Lincoln" by Carl Sandberg (1939). Also available are several volumes by famed historian and writer, Page Smith, and books by authors as varied as Bill Mauldin, Pearl Buck and Charles Dickens.  A charming book contains letters from famous people in the past to their children.  In addition, on our FEATURED shelves, we'll have a collection of classic children's books as well as a group of both newer and traditional California history books.
In the basement we'll be offering coffee-table books on art, popular culture, cooking, history and sports.  These volumes are in wonderful condition and are reasonably priced.   Our Bargain Book Table on the parking lot offers good quality books at only $1 each and we have several tables of paperbacks and children's books at twenty-five cents each or 5/$1.00.
These sales offer high quality, slightly used books that are culled from our library shelves or donated, books that you'll be proud to place in your own library or to give to friends and family.  So come early and come often to see what treasures you can find.  Proceeds from the Best Used Book Sales will be donated to the Sierra Made Public Library to support program and equipment needs.  The library is located at 440 W. Sierra Madre Blvd. in the city of Sierra Madre and there is parking on the street and behind the library.  For more information visit our website at www.sierramadrelibraryfriends.org or call 626 355-7186.