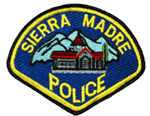 Posted 2/10/14 – Sierra Madre Police Department Blotter, February 3-9, 2014
Monday, February 3, 2014
Between the hours of 9:00 am and 4:00 pm in the 500 Block of W. Sierra Madre Blvd., a resident reported a grand theft. Resident's bracelet valued at $10,000.00 was stolen, allegedly by caretaker.
Wednesday, February 5, 2014
At 11:00 am, Sierra Madre Police responded to a domestic dispute in the 400 block of Adams.  The victim sustained injuries and was treated at a medical facility.  Suspect was arrested, and case was forwarded to District Attorney's Office for filing considerations.
Friday, February 7, 2014
A resident reported that between the hours of 4:30 pm Thursday, Feb. 6th  and 2:15 pm Friday February 7th, she parked her vehicle in the 500 block of W. Sierra Madre Blvd.  Upon her return, the victim found that her catalytic converter had been stolen.