Press Release posted 2/19/14 – The annual Huck Finn Fishing Derby and Campout will be here before you know it: Friday, March 28, 2014 – Sunday, March 30, 2014. The weekend long event is held at the Sierra Madre Holding Basins next to Dapper Field and behind the Public Works Yard. The event is sponsored by the Community Services Department, Sierra Madre Volunteer Firefighters Association, Sierra Madre Civic Club, Sierra Madre Kiwanis Club, and Sierra Madre Rotary Club, Veterans of Foreign Wars Post 3208.
Camp Out
The Campout is held Friday, March 28 to Saturday, March 29 and includes a campfire, s'mores, and star gazing. Participants must sign up in advance for campsites which are available on a first come, first serve basis. Campsites can accommodate six persons; the registration fee is $56.00 and includes fishing derby entry for up to 4 youths and re-entry to Saturday Family Fishing. Camping registration begins February 24 and must be done in person at the Community Services Office, located at 611 E. Sierra Madre Blvd., Sierra Madre, CA 91024, open Monday through Thursday 11:00am – 5:30pm.
Fishing Derby – Saturday, March 29
The fishing derby is open to youth ages 3-15 years. The event runs from 7:00am – 11:30am and costs $10 per youth.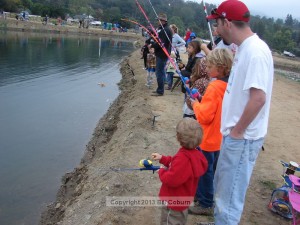 Registration is accepted the morning of the event only, and the entrance is located next to Dapper Field in Sierra Vista Park. All skill leaves are welcome and experienced Fishing Guides will be on hand to assist all participants. The Sierra Madre Kiwanis Club will provide food available for purchase.
Family Fishing – March 29 and March 30
Family Fishing is from 12:30-4:00pm on Saturday, March 29 and from 7:00am-4:00pm on Sunday, March 30. Admission is $20 for a family of four or $10 per individual; no fishing license is required. Entrance is located next to Dapper Field in Sierra Vista Park.
For more information please contact the Community Services Department at 626-355-5278.