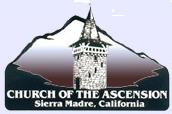 Press Release posted 3/10/14 – Sierra Madre's Village Church – Ascension – invites the community to join the choir as they present a Choral Evensong for Lent on Sunday, March 16, at 5:00 p.m. This beautiful service of music and meditation will incorporate selections from the Renaissance through the present day, including works by Thomas Tallis, Charles Villiers Stanford, Herbert Howells, John Ireland, Roland E. Martin, and Richard Shephard. Two organ chorale settings of "Herzlich tut mich verlangen" by Johannes Brahms will begin and conclude the service.
In addition to the choir, participants in the service will include The Very Rev. Canon Michael A. Bamberger, rector, Deacon Ed Sniecienski, and Dr. Debora Huffman, Director of Music and Organist.
All are welcome to attend this free event. Following this beautiful service of reflection a reception will be held in Hawks Hall. The Church of the Ascension is located at 25 East Laurel Avenue in Sierra Madre at the corner of Baldwin and Laurel Avenues. Due to street closures for the Wistaria Festival please use alternate routes to the church, such as Mountain Trail, and park in the church lot on Laurel Avenue.
Evensong or Evening Prayer is a traditional Anglican service which is celebrated in the late afternoon or evening. It is commonly known as Evensong when most of the service is sung. For generations, many of our finest church composers have written music for this traditional service.
For more information, please call (626) 355-1133 or visit: www.ascension-sierramadre.com.