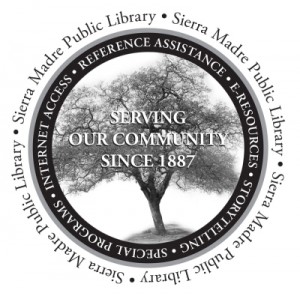 Press Release posted 3/10/14 – Author Brings Her Book Alive to Capacity Crowd
The Sierra Madre Public Library wrapped 2014 One Book One City choice, Maisie Dobbs, concluded a month of exciting free events revolving around its 2014 One Book One City choice, Maisie Dobbs, with an extremely well-received appearance by the author Jacqueline Winspear.
Winspear spoke about World War I and its effect on England, and its setting for her mystery novel featuring an extraordinary young woman living in World War I era England and France. A reception followed the talk and copies of books in the Maisie Dobbs series were available for purchase and signing by the author.
2014 marks the 100th anniversary of the start of World War I and Winspear's talk capped a month of programs with a World War I theme.
A Children's Airplane Flying Contest, and Jim Constantian with his 1916 Victrola phonograph and original recordings from the era, started the month's celebration. The Library displayed artifacts from World War I, World War I award-winning poetry by Christopher "Kit" Adde, and the Teen Docents conducted virtual tours of Sierra Madre in the World War I period.
Other events included: Catherine Adde's "tour" of Cambridge, London, the English countryside and the battlefields of France where the story took place. Wings, an epic World War I silent action drama that featured spectacular aerial sequences of vintage dog fighting and a romantic angle featuring Clara Bow. The Sierra Madre Historical Preservation Society presentation of author and historian Michele Zack who spoke about life in Sierra Madre during the years up to, including, and following WWI.
"Thanks from the Library's One Book One City Committee go to the Sierra Madre Community Foundation, the Sierra Madre Civic Club and the Sierra Madre Rotary Club for their financial support, and to the Historical Society for their program featuring Michele Zack, and the Woman's Club, the Sierra Madre Playhouse, & The Gooden School for letting us use their fine facilities for programs," said Rob Stockly OBOC chair and Board of Trustees chairman.
Sierra Madre Public Library, 440 W. Sierra Madre Blvd., Sierra Madre, CA 91024,
(626) 355-7186, www.cityofsierramadre.com/departments/library.