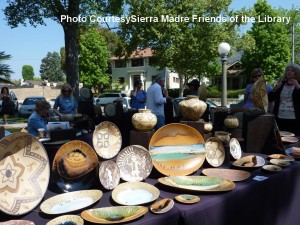 Press Release posted 4/30/14 – The 52nd annual Friends of the Sierra Madre Library's art fair will be held in Memorial Park, 222 W. Sierra Madre Blvd. in the city of Sierra Madre on Saturday, May 3, from 9:30AM to 6:00PM and Sunday, May 4, from 9:30AM to 5:00PM. More than 95 artists will be displaying and selling their fine arts in mediums that include oil painting, jewelry, water colors, glass, wood, metal, photography, pottery, ceramics, mixed media, and weaving.   Stop by the booth of our featured artist, Beverly Jones, to admire and purchase her lovely jewelry.  Many of the artists have donated lovely one-of-a-kind pieces to be auctioned off in a Silent Auction which means that you'll have a chance to bid on some really beautiful artwork.  The Creative Arts Group has planned an imaginative craft activity for children from 10:00am-4:00pm both days.  While you're strolling among the various booths, you'll be entertained by an eclectic variety of live music in both the band shell and on the south lawn.
This year we are featuring food trucks both days.  On Saturday you'll be able to purchase tortas, wraps, salads, and tacos, with many vegetarian options, at Tortas 2 Die 4.  The Hurricane Kitchen will offer street food like you never imagined, such dishes as duck confit,  barbecue salmon, panko crusted catfish, pulled pork, and sriracha chicken just to name a few. The Schmuck Truck offers authentic New York deli food, need we say more.  Neri Curbside serves barbecue and burgers as well as traditional Filipino dishes such as tapsilog, tocilog, and crispy dinuguan.  And the Wafl Truck offers waffles with more toppings than you could ever imagine.  On Sunday you won't want to miss the many ways the Patty Wagon serves burgers.   Or check out the Farmers Belly offering salads, sandwiches, and burgers made with organic heirloom ingredients.  The Currywurst LA truck will be serving German brats and grilled cheese.  The Chili Philosopher doesn't just offer the usual chili; you'll want to try their chili infested burger or their chili cheese fries, or their turkey chili with coconut sour cream.   To quench your thirst stop by the Mambo Juice truck for a smoothie made with healthy juices.  There will be a wine and beer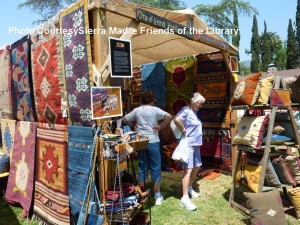 garden both afternoons where you can sit and relax a little.  And, of course, the Friends of the Sierra Madre Library will have a booth selling loaves of homemade quick breads and sweet breads.
So plan to spend a day with us, enjoying artwork done in a wide variety of mediums, sitting on the grass listening to music, dining on a satisfying lunch or snack, watching the kids create their own souvenir of the Art Fair. bidding on some of the items in the Silent Auction that appeal to you, and buying those lovely original pieces of art that you'll be proud to wear or display in your home.  Proceeds from the Art Fair benefit the resources and programs of the Sierra Madre Library.  For more information, call 626 355-7186 or visit our website at www.sierramadrelibraryfriends.org.