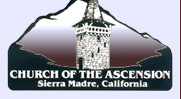 Press Release posted 3/5/15 – Sierra Madre's Village Church – Ascension – invites the community to join in the free concert as they present a Lenten Choral Evensong on Sunday, March 15, at 5:00 p.m. This beautiful service of music and meditation will incorporate selections from the Dr. James Hopkins' Thy Name Is Love (written for the Ascension Choir) and a moving setting of Agnus Dei by British composer, Francis Jackson.
Choral anthems from the Renaissance through Contemporary periods, including works by Richard Farrant, William Byrd, Thomas Tallis, Charles Wood, Pasadena resident James Hopkins, Daniel Gawthrop, and Francis Jackson. Featuring the Church of the Ascension's Choir and oboist Sean Dougall, under the direction of Dr. Debora Huffman, Ascension's parish musician. Specific anthems include Call to Remembrance – Farrant; Preces and Responses – William Byrd; Hail, Gladdening Light – Charles Wood; Magnificat and Nunc Dimittis-Thomas Tallis; Thy Name is Love – James Hopkins; Create in Me a Clean Heart – Daniel Gawthrop and Agnus Dei – Francis Jackson.
All are welcome to attend this free event. This is a wonderful way to conclude your visit to Sierra Madre following the Wistaria Festival. Reception to follow concert in the Hawks Hall.
The Church of the Ascension is located at 25 East Laurel Avenue in Sierra Madre at the corner of Baldwin and Laurel Avenues. Due to street closures for the Wistaria Festival please use alternative routes to the church such as Mountain Trail and park in the church lot on Laurel Avenue.
For more information, please call (626) 355-1133 or visit: www.ascension-sierramadre.com.