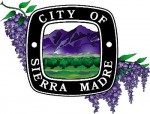 Press Release posted 10/19/15 – The Sierra Madre City Council will meet for a special meeting Monday, October 19, 2015 at 7:00PM to address key issues affecting the City's water resources, including discussion on water penalties, repairs to infrastructure, and the State's Notice of Violation for failing to meet water conservation standards.
In July 2015 the City began assessing penalties for customers that exceed their conservation targets; the City Council will being reviewing this policy and providing direction regarding the imposition of penalties for excess water use that results from a leak on private property. The City is also greatly concerned with the number of leaks in the City's 80+ year old water pipe system over the last several months and will discuss replacement of some of the city's worst leakers. Water conservation has been of increasing concern for Sierra Madre as the gap between the City's water usage and the State's conservation target widens. The latest statistics reported for October show a shortfall in conservation targets for the fourth month in a row.
The City Council special session will take place on Monday, October 19, 2015 at 7:00PM in City Hall Council Chambers. Residents are encouraged to attend and the opportunity for public input will be available. The meeting will be televised on Time Warner's channel three and streamed live from www.cityofsierramadre.com for those who cannot be present.