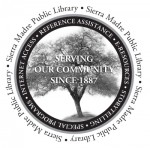 Press Release posted 12/20/15 – Creativity and fun are in store when children gather at the Sierra Madre Public Library to create mini rose floats on Monday, December 21 at 10:00 a.m. Youth of all ages will hear about this year's entry and create their own rendering based on this year's Sierra Madre Float. The Sierra Madre Rose Float Association donates materials and helps with the Library's mini float event each year. "Find Your Adventure" is the theme of this year's Parade.
The Sierra Madre Public Library will be open on Christmas Eve, Thursday, December 24, 10:00 a.m. to 2:00 p.m.
The Library will be closed from Friday, December 25 through January 3 and will reopen on Monday, January 4 at 11:00 am.
Read, Discover, Connect @ Sierra Madre Public Library
The Library is located at 440 W. Sierra Madre Blvd., Sierra Madre, CA 91024, (626) 355-7186, www.sierramadre.lib.ca.us