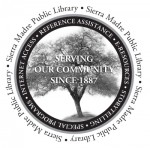 Press Release posted 1/9/16 – Sign-ups are underway for Sierra Madre Public Library's popular five-week Parent/Child Workshop, "1-2-3 Play With Me," designed for families with children ages three and younger.
Each workshop session will highlight a different aspect of parenting, including early literacy, speech, child development, nutrition, music, play, and health. Sessions allow parents to spend time having fun with their young children, develop a network of local parents, and interact with a new specialist each week.
The workshop series at the Library will take place on Tuesday mornings February 2, 9, 16, 23, and March 1, from 10:00 to 11:00 am. Sessions are interactive and include toys, crafts, books, and play.  Enrollment is free, but in-person pre-registration at the Library is required to ensure a spot in the program.
For more information, please call Christine Smart, Youth Services Librarian at (626) 355-7186.
Read, Discover, Connect @ Sierra Madre Public Library, 440 West Sierra Madre Blvd., Sierra Madre, CA 91024, (626) 355-7186, www.cityofsierramadre.com/services/library