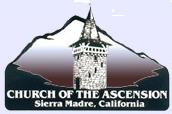 Press Release posted 3/23/16 –  As at any joyous holiday season, you can count on Church of the Ascension – Sierra Madre's Village Church – to be the place where you can join with friends and neighbors to remember the events of Holy Week and rejoice at the miracle of Easter. All of the services point to the joy of the Paschal Mystery – the Resurrection of Our Lord Jesus Christ.
Services during Holy Week 2016 include:
Palm (Passion) Sunday March 20th at both 8 AM and 10:15 AM
Both services include the Blessing of Palms. The 10:15 AM service will begin in the Memorial Garden with a procession into the Church.
Monday & Tuesday March 21 & 22 7:00 PM Mass
Tenebrae – Wednesday March 23 7:00 PM Readings from the Holy Scripture
Maundy Thursday March 24 7:00 AM Mass
7:00 PM Foot-washing and Mass.
9:00 pm – 12:00 am Watch at the Altar of Repose
Good Friday March 25 7:30 – 11:00 am Watch at the Altar of Repose
12:00 PM Stations of the Cross
7:00 PM Liturgy
There are two distinct services on Good Friday. The first is the Stations of the Cross which begins in the Church and processes around the grounds. The second service is the Good Friday Liturgy & Veneration of the Cross before the Church "goes dark" until Easter Eve.
Easter Vigil & 1st Eucharist March 27 6:00 AM
The pre-dawn Sunday morning Easter Vigil is both a spiritual and physical awakening as the sun rises over the outdoor service and the congregation shares the joy of the Resurrection. The service then moves into the sanctuary where we experience the music of Easter, the beautifully decorated church, the Easter sermon, and together celebrate the first Eucharist Mass of Easter. An old tradition at Ascension is for everyone to bring bells to ring as a sign of our joy.
Easter Service March 27 10:15 AM Church
Traditional Easter message, Music, and Festival High Mass. The proclamation of Jesus' Resurrection is again accompanied by the bells brought by the congregation.
Come for some part or all of this series of reflection. Holy Week and Easter services are great ways to meet new neighbors and check out a wonderful community church. For more information, please call the church office at (626) 355-1133 or visit: www.ascension-sierramadre.com.