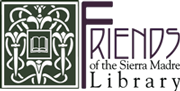 Press Release posted 3/16/16 – The Friends of the Sierra Madre Library announce that the April Best Used Book Sale will be held on Friday, April 1 (3-7 p.m.) and Saturday, April 2 (10 a.m. – 2 p.m.)  The sale is held at the back of the library, 440 W. Sierra Madre Blvd. in the parking lot and in the basement.
Featured at this sale will be COOKBOOKS.  We have a large collection of cookbooks on our shelves; all will be half price at the sale. Newer cookbook collections on the Table in the Basement will be offered at our usual low prices, $2.50 – $6.00.  In addition, the Bargain Book boxes on the parking lot will have cookbooks of many kinds for only $1.00!
We also will be featuring a group of Local History volumes recently released from the library's collection.   Included are books on California history and geography, some signed.
In addition, there is a wonderful like-new set of the Harvard Classics Collector's Edition with many classic literature titles. Our Collectible shelves are full of books signed by authors, some first editions, and interesting vintage titles.
Together with our contemporary thrillers, mysteries and newer fiction, the shelves are full of non-fiction books of every type.  Looking for a Home Repair book or a book of quotations?  One on Tudor queens or a political biography?  Come to the Best Book Sale, meet and share with other book lovers, and take advantage of our low prices on high-quality books!
All proceeds from the sale will be used to support programs, services and acquisitions of the Sierra Madre Library. The Friends of the Sierra Madre Library is a non-profit organization and all proceeds benefit the Sierra Madre Library.   For more information visit us on Facebook, at our website www.sierramadrelibraryfriends.org, or call the library at 626 355-7186.
See you at the Book Sale!