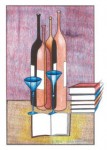 The Friends of the Sierra Madre Library have been putting the final details on their 41st Annual Wine and Cuisine Tasting Event scheduled February 18th. Because of the renewed popularity of wine tasting events, it's easy to understand that the "cuisine tasting" might get lost in the promotion.
Fran Garbaccio, Friend's volunteer, has been busy finalizing the team of participating restaurants who will be represented at the event. "The response this year from local restaurants has been wonderful," said Fran. "So many restaurants have found this to be a great way for folks to sample the best of what they offer at their individual location.  They'll be promoting their best," she added.
So far, you can expect to taste samples from: Bean Town, Café 322, Casa Del Rey, Claro's Italian Market, Charcuterie, Enrique's, Green Street Café, Jakes Roadhouse, Lucky Baldwin's Emporium, Matt Denny's Alehouse, Pie & Burger, Starbucks, Stonefire Grill, Sweets Pastries & More, The Only Place in Town, Ugos and Whole Foods.
Imagine taking your Valentine to over 20 different restaurants for a taste? Now imagine the convenience and savings when you're able to sample some of these same restaurants with the price a ticket. By the way, tipping is not required.
The always-popular evening will take place at the Alverno High School Villa, 200 N Michillinda Avenue, on Friday February 18 7:00p – 9:30p. General entry tickets at a cost of $60 will allow entry at 7:00, but Premier admission will allow 100 folk an early entry at 6:00 and include many new surprises. Current paid members of the Friends will receive a $5 discount off general entry when purchased at the library.
Tickets can be purchased at Arnold's Frontier Hardware, The Bottle Shop, Iris Intrigue, and Savor the Flavor. You can also pick up tickets at the Sierra Madre Library, or PayPal on-line  at www.sierramadrelibraryfriends.org.