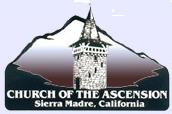 Press Release posted 12/23/16 – Many special events take place at Ascension during Christmastide. You are invited to join us in this    glorious season of celebration through story, pageant, song, prayer, scripture, and candlelight.   This year's schedule of special services for Christmas includes:
December 18th Fourth Sunday of Advent – morning services at 8:00 am and 10:15 am and the Candlelight Walk down Baldwin at 7:00 pm
December 24th Christmas Eve – Family Service and Pageant at 5:00 p.m. All children attending this service are encouraged to participate in the telling of the story of first Christmas. The service will also be filled with music provided by the children and a musical quartet.
December 24th Christmas Eve – Carols and Hymns at 10:30 p.m. and Mass at 11:00 p.m.  Ascension's late Christmas Eve service features the traditional procession, incense, candles, prayer, sermon, and the great music of the season as the congregation joyously celebrates the birth of Christ.
December 25th Christmas Day –  11:00 a.m. the Celebration of the Feast of the Nativity.
January 1 First Sunday after Christmas at 10 am
January 5th the Eve of the Epiphany – Short Church and potluck at 6:30 pm
January 8th  the First Sunday after Epiphany morning services at 8:00 am and 10:15 am
Church of the Ascension is located at 25 E. Laurel Avenue corner of Laurel and Baldwin Avenues in Sierra Madre. For more information, please call (626) 355-1133 or visit: www.ascension-sierramadre.com.