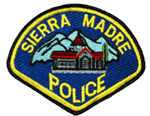 Press Release posted 12/23/16 – The Sierra Madre PD would like to remind our residents and visitors of the following parking exemptions:
Beginning at 2:00 a.m. on Saturday, December 17, 2016 there will be a City-wide exemption for parking violations relating to Permit Parking and Overnight Parking. This exemption will extend until 2:00 a.m. on Tuesday, January 3, 2017, in observance of the holiday season.
Please note that safety violations related to parking will be enforced 24/7.
There will be Officers on staff, 24/7 to handle enforceable parking issues and safety violations during these times
.
***SAFETY VIOLATIONS (e.g. Red Zones, White Zones, Blue Zones, parking violations obstructing egress/ingress to the roadway or sidewalk).
Enjoy your holidays and be safe.
IF YOU SEE SOMETHING, SAY SOMETHING!