Press release posted 1/7/17
Sierra Madre Police Department Police Blotter Report
December 26, to January 1, 2017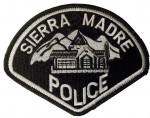 During this time period, the Sierra Madre Police Department responded to approximately 204 day and night time calls for service.
Monday, December 26
At about 10:58 a.m. a report of vandalism was investigated in the 300 block of W. Sierra Madre Bl. On arrival, responding officers noticed that graffiti had been sprayed on a vending machine and a wall of the business by unknown suspect(s).
Case referred to Detectives
Tuesday, December 27
SMPD received a report of a hit and run in the parking lot in the Montecito Parking lot. At approximately 3:30 p.m. a witness reported that a moving vehicle had struck a parked vehicle, causing damage to the rear bumper and left the scene without stopping to leave the proper identification.
This case forwarded to Detectives
6:57 p.m.
Officers responded to a welfare check of a possibly intoxicated person at the intersection of Santa Anita and Arno. The officers determined that an injured male was pulled out of the Lannan Debris basin by two friends. Sierra Madre Fire responded, treated and transported the male to a local hospital for further treatment.
Wednesday, December 28
A traffic stop was conducted at Sierra Madre Bl. and Michillinda Ave. at about 4:24 a.m. The driver had a suspended license and an outstanding warrant. The vehicle had a stolen license plate. Following a search of the vehicle, officers discovered drug paraphernalia. The driver was transported to Pasadena Jail and the vehicle was impounded.
Case forwarded to Pasadena DA's office for filing consideration