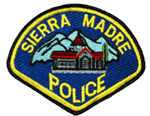 Posted 5/20/18 – Sierra Madre Police Department Police Blotter Report
May 6 to May 13, 2018
During this period, the Sierra Madre Police Department responded to approximately 322 day and night time calls for service.
Monday, May 7
At about 7:26PM, a burglary from a vehicle occurred in the carport of the residence in the 700 block of W. Sierra Madre Bl. At the time of the report, the victim did not notice anything missing from the vehicle. Entry into the vehicle was made by an unknown suspect(s) smashing the rear passenger window with an unknown tool.
Case to Detectives
Tuesday, May 8
A grand theft occurred in the 400 block of Fairview Ave. at about 3:10PM. The suspect(s) cut a chain which was securing a lawn mower and weed eater to the victim's truck. The suspect(s) removed the lawn mower and weed eater and fled the scene.
Case to Detectives
4:20PM
Officers responded to a call in the 600 block of Oak Crest of an attempted burglary that occurred with suspects seen fleeing the scene by vehicle. Following a search of the area, officers were unable to locate the vehicle or suspects.
Wednesday, May 9
A victim walked out to her vehicle parked in a private parking lot in the 500 block of W. Sierra Madre Bl. at about 2:00PM and discovered her front passenger side window had been shattered. A Mac book pro laptop, cash and other miscellaneous personal items were missing.
Case to Detectives
Thursday, May 10
A traffic stop was made for a vehicle code violation at Santa Anita and Orange Grove Ave. Following an interview it was discovered the driver had a warrant. The driver was arrested and transported to the Pasadena jail and released to the on duty jailor.
Friday, May 11
An officer responded to the 100 block of Esperanza Ave. for a report of a bicycle from the carport of an apartment complex.
If you are interested in the Sierra Madre Police Department's Neighborhood Watch (NW) Program or any other Police Department related community events, please contact:
Lou Oronoz Community Service Officer
Sierra Madre Police Department
242 W. Sierra Madre Bl. Sierra Madre, CA. 91024
Office: 626/355-4596 Fax: 626/355-5468
E-mail: loronoz@cityofsierramadre.com