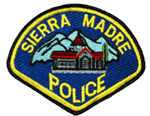 During the week of Sunday, January 30th, to Saturday February 5th, the Sierra Madre Police Department responded to approximately 397 calls for service. See crimereports.com for updated information.
Sunday, January 30th:
12:19 AM- Vandalism/under $400, 400 Grove St.  Unknown suspect(s) vandalized the front yard of a residence with shaving cream, eggs and toilet paper, the suspect(s) also wrote obscenities on the vehicles. 
6:05 PM- Danger to Self/others/Gravely Disabled, Shadow Grove Rd.  This case involves a woman leaving her ex-boyfriend due to domestic violence. On January 30th her ex-boyfriend was outside her parent's house and claimed that he would hurt himself if the victim did not speak with him. The victim also claimed that her former boyfriend had a 9mm Beretta.  Officers responded and briefly pursued the man as he was leaving in his car.  During the car stop officers took the man into protective custody for a 72-hour psychiatric evaluation.  Officers recovered a loaded handgun in the man's car.     
Wednesday, February 2nd:
11:05 PM- Possession of Marijuana in Vehicle Arrest, Orange Grove Ave and Baldwin Ave.  An officer stopped a motorist for a Vehicle Code violation.  Further investigation revealed that the driver was in possession of 0.8 grams of marijuana.  The resident from Monrovia was cited and released on the field.   
2:11 AM- Warrant/Outside/Traffic Arrest, Santa Anita Ave and Orange Grove Ave.  An officer stopped a motorist for a Vehicle Code violation.  Further investigation revealed the passenger in the vehicle had three warrants for his arrest from three L.A. County agencies.  The Sierra Madre resident was arrested and released into the custody of Pasadena Police Department.
Thursday, February 3rd:
2:04 PM- Petty Theft, 200 blk. E. Montecito Ave.  Unknown suspect(s) stole a chain saw and hedge trimmer from an unlocked truck while it was parked on the street.
Friday, February 4th:
10:01 AM- Residential Burglary Arrest, Valle Vista Ave.  An officer stopped a 21-year old female resident of Sierra Madre for a traffic violation near Park and Manzanita Ave.  During the investigation, the officer noticed that her car had stolen registration tabs. The officer questioned the woman and learned that she had provided home cleaning services to an older man on Valle Vista Ave, and had burglarized his home to steal the tabs. The officer arrested the suspect for burglary and booked her at the Pasadena jail.
Saturday, February 5th:
4:58 PM- Disorderly Conduct/Drunk in Public Arrest, Sierra Madre Blvd and Hermosa Ave.   An officer saw an intoxicated man seated on a bus bench.  The officer arrested the Los Angeles resident and took him to the Pasadena jail for booking.