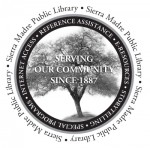 Sierra Madre Public Library's new five-week Parent/Child Workshop for families with children ages three and younger will feature noted resource professionals from the community. Each workshop session will feature a different aspect of parenting, including early literacy, speech, hearing and language development, child development, nutrition, music, play, and health. The workshops, which will take place at the Library on consecutive Wednesdays: March 2, 9, 16, 23 and 30, from 6:30 p.m. – 8:00 p.m., will be interactive and will include toys, crafts, books and play in addition to discussions of parenting issues and concerns. Enrollment is free, but in-person pre-registration at the Library is required to ensure a spot in the program.
The workshop itinerary and speakers are:
March 2: Orientation, Early Literacy – Meegan Tosh, Sierra Madre Public Library Children's Librarian.
March 9: Speech, Hearing & Language Development – Justine Sherman of Justine Sherman & Associates, a nonpublic agency serving the speech-language, and educational needs of young children. Ms. Sherman also conducts a series of family programs to help parents enhance their children's language and social skills in a fun environment. JSA is a family centered clinic that believes parent involvement and education leads to great carryover of skills.
March 16: Child Development – Dr. Tina Bryson, lecturer, parenting educator and psychotherapist at Pediatric and Adolescent Psychology Associates. Dr. Bryson is the author of "The Whole-Brain Child." Tina combines practical parenting tips you can use every day with cutting-edge science. She gives parents easy ways to solve parenting struggles, lay the groundwork for whole and happy children, understand their child's development, and be more intentional in their parenting. Come learn how to tame tantrums and build your child's brain at the same time!
March 23: Nutrition – Dr. Edward Laurance, pediatric gastroenterologist specializing in nutrition and in treating children's stomach and digestive disorders, along with Registered Dietician Wendy Crump.
March 30: Music, Play & Health – Melissa Moore Castillo, who holds a master's degree in dance-movement therapy and has led preschool movement groups. Melissa is currently Sierra Madre School PTA President.
This project is supported by the U.S. Institute of Museum and Library Services under the provisions of the Library Services and Technology Act, administered in California by the State Librarian.
For more information, please call Meegan Tosh, Youth Services Librarian at (626) 355-7186. The Sierra Madre Public Library is located at 440 West Sierra Madre Boulevard in Sierra Madre.www.sierramadre.lib.ca.us