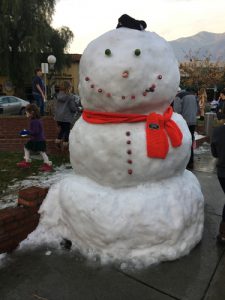 Posted 12/23/18 – The annual tradition of a snowman in Kersting Court was continued today, as Frosty arrived just in time for tonight's Candlelight Procession.  I wasn't there during the build, so I don't want to state it as fact, but traditionally, Andrew Graper, Dave Forrester and friends build the snowman from ice they pick up at a skating rink.  They've been doing it since 1988, and here's a link to a story that goes into more detail.  This is not the first time they've done it on the night of the Candlelight Procession, but that's how it worked out this year.
The Candlelight Procession begins at St. Rita's at 7pm.  The procession heads down Baldwin Ave. to Kersting Court, where the crowd gathers to see baby Jesus placed in the manger by two local youths portraying Mary and Joseph, followed by the singing of carols and the reading of scriptures by clergy from local churches.  Here's a link to some history of the Candlelight Procession.
Please note – we've just upgraded the WordPress theme for the site, and a few (spelled l-o-t) of things aren't properly formatted and links may not be working.  We'll eventually get it fixed, but please bear with us in the interim.