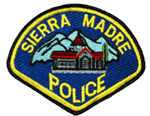 During the week of Sunday, June 12th, to Saturday June 18th, the Sierra Madre Police Department responded to approximately 302 calls for service. See crimereports.com for updated information.
Sunday, June 12th:
8:25 AM- Residential Burglary, 300 blk. Foothill Ave.  Unknown suspect(s) entered a house between 5:00 AM on Friday June 10th and 8:25 PM on Sunday June 6th. The suspect(s) ransacked the interior of the den, family room, garage and car, none of the locations had detection of motion sensors. The loss included: a Chase Bank American Airlines Visa card, Bank of America checks, a 19" Sony flat screen TV, 10 pairs of women's shoes, miscellaneous Christmas gifts, Chivas Regal Whiskey, Harvey's Bristol Cream liquor, Cognac liquor, luggage, miscellaneous dry and canned food, a box of kids toys, miscellaneous clothes, a red glass vase and 3 jade colored pieces of jewelry. The suspect(s) left in an unknown direction with the stolen property. The loss was valued at $1,562.00.
Monday, June 13th:
6:48 AM- Auto Burglary, 300 blk. Manzanita Ave.  Unknown suspect(s) entered a locked parked car between the evening of June 12th and the morning of June 13th. The suspect(s) stole a camera tripod and a Canon camera with an attached lens, and a camera bag. The loss was valued at $1,870.00.
Wednesday, June 15th:
2:01 PM- Attempted Petty Theft, 300 blk. San Gabriel Ct.   A 40-year old Hispanic woman parked her van on the street and walked up the driveway of the home. She grabbed a scooter and walked back to the van. The victim yelled at the suspect, who dropped the scooter and got into the van. The van left westbound on San Gabriel Ct.
Thursday, June 16th:
2:26 PM- Altered/Forged/Counterfeited Document, 300 W. Sierra Madre Blvd.  The victim reported that an unknown person stole his checkbooks. The unknown suspect(s) forged and cashed a check at $600.00, from the Bank of America in Sierra Madre.
Friday, June 17th:
12:24 AM- Possess/Sell Switch Blade Knife, Michillinda Ave and Foothill Blvd.  An officer stopped a 42-year old Van Nuys motorist for a Vehicle Code violation and learned that the driver was under the possession of a switch blade knife. The driver was arrested and transported to Pasadena Police Department for booking and later released on a citation.
Saturday, June 18th:
11:30 PM- Possession of Open Container in Vehicle, 300 blk. Sierra Madre Blvd.  An officer stopped an 23-year old Pasadena motorist for driving with open container of alcohol. Further investigation revealed that the driver was also in possession of marijuana. The passenger was also cited for possession of an open container of alcohol in the car and possession of less than 1 oz of marijuana.