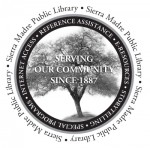 Cookie Einstein, an adorable AKC Cockapoo, has been thrilling audiences of all ages with her phenomenal mathematical talent. This amazing canine "math genius" will be appearing at the Library on Monday, July 11, at 10:00 a.m.
Cookie is a former therapy dog who has the uncanny ability to add, subtract, multiply and divide, as well as do square roots and simple algebra.  Her handler, Penny Martin, rescued Cookie from a shelter when the pup's former owner, a nurse, passed away.  It soon became apparent to Martin that Cookie was no ordinary dog.  When asked her age or the answer to a simple addition question, Cookie would bark out the correct answer.  To Martin's astonishment, Cookie made quick progress and was soon able to handle more challenging math problems.  Cookie is also bilingual, and will bark out the answers to questions posed to her from the audience in either English or Spanish! Is Cookie smarter than the average 5th Grader?  Penny Martin will challenge the audience to test her and find out!
This fun-filled, interactive event is free and open to the public. The Sierra Madre Public Library is located at 440 West Sierra Madre Boulevard in Sierra Madre. (626) 355-7186. www.sierramadrelibrary.lib.ca.us.