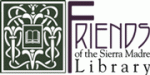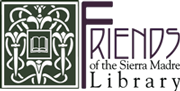 The dog days of summer are upon us and one of the coolest places to be during these hot times is the Sierra Madre Public Library.   And some of the best times to be there are during the Friends of the Sierra Madre Library's Best Used Book Sale being held on Friday, August 5, from 3:00-7:00PM and Saturday, August 6, from 10:00AM-2:00PM.  The library is located at 440 W. Sierra Madre Blvd. in the city of Sierra Madre.
Best Used Book Sales co-chairs, Martha Troedson and Alan Leahy, tell us there are a number of lovely coffee table books on art and artists.  Didn't have a chance to go on a vacation this summer- you'll be able to satisfy your wanderlust with wonderful destination travel books for such exotic places as Italy. Like to spend your time gardening – we have a large number of books on gardens and gardening available.  If you're a sports fan, you'll find many books of interest.  And for the mystery lovers, we have the first seven books in the James Patterson Women's Murder Club series for sale.  These items and many other adult fiction and non-fiction books, children's books, audio books, CDs, and DVDs will be available to purchase for your reading and listening pleasure.  Tables outside the library will feature hardback and trade fiction and non-fiction for $1.00 each and paperbacks for twenty-five cents each (or five for $1.00).  Proceeds from the Best Used Book Sales are donated to the Sierra Made Public Library to support program and equipment needs.
So, bring your shopping bags to the Sierra Madre Library on Friday, August 5, and Saturday, August 6, for an opportunity to purchase some of the best used books around at the Friends of the Sierra Madre Library's Best Used Book Sale.