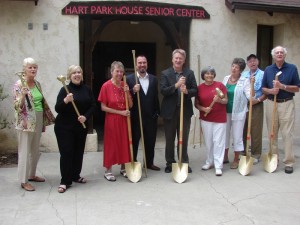 Members of the City Council were joined by past and present members of the Senior Community Commission at the Hart Park House in Memorial Park, aka the Senior Center, for a ceremonial groundbreaking.  Mayor Buchanan presented a "Notice to Proceed" to Public Works Director Bruce Inman, because the contractor had to leave.  Inman will oversee the project for the City, including passing off the Notice to Proceed to the Contractor.
Improvements to be done during the project include new laminate flooring, built-in computer workstations, a kitchen where the office was, an office where the kitchen was, upgraded wiring, new paint, automatic opening doors, and a new built-in sound system donated by the Kiwanis.
The project is anticipated to be completed on November 23, 2011.  In the meantime, the senior lunch programs will continue to take place, but from the Rec. Center at the other end of town.  Shuttles between the two buildings will be provided by the City.
Here's a video of the event, also, enjoy the pictures.