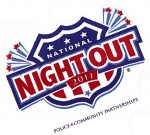 SMPD will be a participant in the "National Night Out" program, the event taking place on Tuesday, August 2nd from 6pm to 8pm. The public is invited to this event, which is designed to heighten crime prevention awareness, generate support for anticrime efforts, and strengthen neighborhood spirit and Police community partnerships.
Police, Fire, City Staff and community groups will be on hand to provide information.
For more information contact the Sierra Madre Police Department at 626-355-1414.