Bargain Book Sale At Sierra Madre Library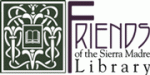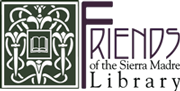 There are cool bargains to be had during the dog days of August at the Friends of the Library Bargain Book Table Sale, scheduled for Monday, August 22 through Saturday, August 27, during the Library's open hours.  This month's featured topics are: Cookbooks, Sports, Biographies, Young Adult, Children's books, and some Fiction.  All books are in good condition and are only $1.00 each.  New titles are put out each day, so stop by early and often for the best selection.
The Sierra Madre Public Library, located at 440 West Sierra Madre Boulevard in Sierra Madre, is open Monday through Wednesday from Noon to 9 p.m., Thursday and Friday from Noon to 6 p.m., and Saturday from 10 a.m. to 6 p.m. (626) 355-7186. www.sierramadre.lib.ca.us.