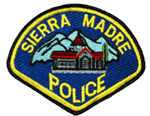 During the week of Sunday, July 31st, to Saturday August 6th, the Sierra Madre Police Department responded to approximately 282 calls for service. See crimereports.com for updated information. 
Sunday, July 31St :
2:08 PM- Grand Theft Exceeding $950, 500 blk. Manzanita Ave.  Unknown suspect(s) stole a detached removable blue hardtop belonging to a Jeep Wrangler between the evening of July 27th and the morning of July 30th.      
Saturday, August 6th:
9:32 AM- Auto Burglary, 600 blk. E. Sierra Madre Blvd.  Unknown suspect(s) entered a parked car on Friday August 5th, between 4:30 PM and 5:00 PM and removed the wallet from the victim's purse leaving the purse behind.   The victim notified the Police Department that someone had tried to use her debit/credit cards.