Travelers And Collectors Speakers Series: "Collecting The American Old West"
David Goff will present his collection of American Old West art and artifacts in Sierra Madre Library's second Travelers and Collectors program, Friday, March 11, at 7:30 p.m. in the Sierra Madre City Hall Council Chambers, 232 W. Sierra Madre Boulevard.  Pioneers and cowboys remain iconic figures in American culture, much admired for their "true grit" and independent spirit.  We never seem to tire of movies and novels set in this time period, and even the everyday, commonplace items unique to this period continue to fascinate us.  History buffs will not want to miss this hands-on program with David Goff, who has dedicated years to collecting and preserving the art and artifacts of this colorful time in our nation's history.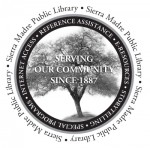 This program is free and open to the public. A program schedule is available at the Sierra Madre Public Library, 440 W. Sierra Madre Blvd., and can also be found on the Library website, www.sierramadre.lib.ca.us.  Travelers and Collectors is held on the second Friday of the month, February through May, and is funded by the Friends of the Library.  For more information call Catriona Shafer at (626) 355-7186.