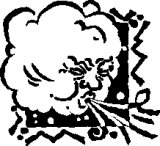 Predictions of high wind for the next couple days.  Here's what www.Wunderground.com is saying in its forecast for Sierra Madre:
High Wind Warning, LA County and San Gabriel Valley as of 9am 11/30/11
… High Wind Warning remains in effect from midnight tonight to
noon PST Friday…
* winds… northeast 35 to 50 mph with gusts to 60 mph…strongest below passes and canyons and in the hills.
* Timing… winds will increase overnight then remain very strong and gusty through Friday morning… except for a period of slightly weaker winds Thursday afternoon and early Thursday evening.
* Impacts… these very strong winds will be capable of downing trees and power lines… knocking down outdoor objects… creating flying debris… and causing dangerous driving conditions especially for high profile vehicles.
Precautionary/preparedness actions… A High Wind Warning means a hazardous high wind event is expected or occurring. Sustained wind speeds of at least 40 mph or gusts of 58 mph or more can lead to property damage.