Back to Back Friends Of The Library Book Sales in Time for Holidays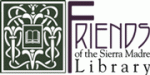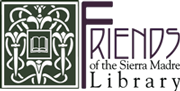 Posted 12/7/11 – The Friends of the Sierra Madre Library are having another Bargain Book Table Sale, right on the heels of December's Best Used Book Sale, which was moved, due to the weather emergency, to Friday, December 9th (3:00 p.m.—7:00 p.m.) and Saturday, December 10th (10:00 a.m.—3:00 p.m.). The Bargain Book Table Sale will take place inside the Library during open hours Monday, December 12th, through Saturday, December 17th. The featured topics will include Fiction, Thrillers, Sports, Parenting, and books for Children and Teens.  Stop by often, as books are replenished daily, and are only $1.00 each.
The Sierra Madre Public Library, located at 440 West Sierra Madre Boulevard in Sierra Madre, is open Monday through Wednesday from Noon to 9 p.m., Thursday and Friday from Noon to 6 p.m., and Saturday from 10 a.m. to 6 p.m. (626) 355-7186. www.sierramadre.lib.ca.us.