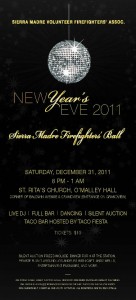 Posted 12/23/11 –
The Sierra Madre Firefighter's Ball is a longstanding tradition in this town, nearly as old as the almost century old Volunteer Dept. itself (technically, with the addition of paramedics, etc., we are now a combination department, but the firefighting crew itself is still volunteer).  See below for video of former mulepacker and firefighter Jim Heasley in 2002 when he was being honored as Sierra Madre's Older American of the Year, discussing the difficulties of selling tickets to the ball door to door during the forties.
This year, for the first time in recent memory, the ball will be held on New Year's Eve, rather than pre-Christmas.  According to the Association's marketing "We have changed the date of this historical charity event to New Year's Eve to make it even more festive and magnificent! "
So come ring in the New Year with the Sierra Madre Volunteer Firefighter's Association. It promises to be exhilarating and memorable. There will be music and dancing, exciting conversations, jovial personalities and lots of laughter and smiles.
A $10 donation, as well as all drink proceeds will benefit the SMVFA. Taco Fiesta will be joinng us selling tacos. The Sierra Madre Fire Department is the last volunteer fire department in Los Angeles County and has proudly protected the people living and working in our little town for more than 85 years!
The Ball will be held at St' Rita Catholic Church, in O'Malley Hall, at the corner of Baldwin and Grand View (or Alegria, take your pick) on New Year's Eve from 8pm to 1am.