Friends Of The Library to Host Two January Book Sales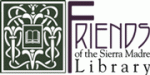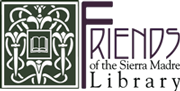 Posted 1/5/12 – The Friends of the Sierra Madre Library will be having two Bargain Book Table Sales in January in the Library during open hours.  The first will run from Monday, January 9th through Saturday January 14th, and will feature Cookbooks, Comics, Fiction, Thrillers, and books for Children and Teens.  The second sale will run from Monday, January 23rd through Saturday, January 28th.  Crossword puzzle fans will want to browse the large collection of puzzle books that will be available during the second sale. Books on Collectibles will also be feautured, as well as the usual Fiction, Thrillers and books for Children and Teens.  Books are replenished daily, and are only $1.00 each.
The Sierra Madre Public Library, located at 440 West Sierra Madre Boulevard in Sierra Madre, is open Monday through Wednesday from Noon to 9 p.m., Thursday and Friday from Noon to 6 p.m., and Saturday from 10 a.m. to 6 p.m. (626) 355-7186. www.sierramadre.lib.ca.us.