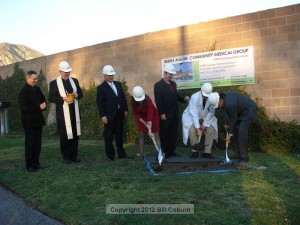 Posted 2/10/12 – Dozens turned out for a reception at Dr. Hani Sami's Sierra Madre Community Medical Group at the blessing and breaking of the ground marking the beginning of construction of a new 7,000 sq. ft. medical building scheduled to be completed at the end of summer.
Dr. Sami welcomed everyone and thanked "our patients and the community for the tremendous and overwhelming support…"  Architect Norberto Nardi of Nardi Associates, LLP discussed the sustainability of the project and compared the design and construction of a building to having a child three times.  Carol Jones of American Construction Management and Engineering, Inc. (ACME), the Pasadena contractor that will build it, thanked the architect and the owner for their faith in the company in hiring them, pledging to bring the project in on time and on budget, Mayor Pro Tem Josh Moran thanked Dr. Sami for his tenacity in bringing the project to its current state, and Father Pat Brennan of Mater Dolorosa Retreat Center gave a blessing.
City Manager Elaine Aguilar, Planning and Development Services Director Danny Castro and Council members MaryAnn MacGillivray and Nancy Walsh were also on hand.
Below the video of Dr. Sami's address to the crowd there's a photo gallery.  Enjoy.