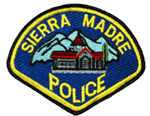 During the week of Sunday, February 27th, to Saturday March 5th, the Sierra Madre Police Department responded to approximately 340 calls for service. See crimereports.com for updated information.
Monday, February 28th:
5:22PM- Warrant/Outside/Criminal, Montecito and Baldwin Ave.  A want/warrant check of a vehicle parked behind Bean Town revealed to have two misdemeanor warrants.  The San Dimas resident entered the vehicle and drove away.  A traffic stop resulted in an arrest of the suspect for her warrants. 
Tuesday, March 1st:
4:28PM- Possession of Marijuana in Vehicle, Mariposa Ave and Ross Place.  An officer stopped a motorist for a Vehicle Code violation.  Further investigation revealed that the driver was in possession of marijuana.  The Sierra Madre resident was cited and released on the field
Wednesday, March 2ND:
1:54 AM- Receiving/Concealing Stolen Property, 2000 blk. Windwood Ln.  A Sierra Madre resident notified the Police Department regarding a male trying to enter her car on her driveway.   The suspect left the scene in an unknown direction.  The suspect was later found at a gas station in Arcadia.  Further investigations by Sierra Madre police officer's revealed that a vehicle on Oak Meadow Rd. had also been ransacked.  The suspect was arrested and transported to Sierra Madre Police to interview and later transported to Pasadena Police Department Jail for Possession of Stolen Property, Possession of Burglary Tools, Attempted Burglary and Petty Theft.                                       
8:00PM- Attempted Residential Burglary, 100 blk. N. Sunnyside Ave.   Unknown suspect(s) tried to force entry into a house through living room window and a closet window but fled the scene once they heard a noise in the house. 
Friday, March 4TH:
11:35 PM- False ID to Peace Officer, 70 blk. W. Sierra Madre Blvd.  This incident involves the police contacting a subject in regards to a vehicle parked in a parking lot of 73 Montecito Ct.  The subject told the police he never had a California Drivers license.  Further investigations revealed that the subject had given false information to the officer in regards to his identity.  The subject prints were run through the Blue-check system which revealed the man's true identity and his name had a $30,000 warrant.  The Los Angeles resident was transported to Pasadena police Department Jail for booking.
Saturday, March 5TH:
12:23 AM- Disorderly Conduct/Drunk in Public, 70 blk. W. Sierra Madre Blvd.  An officer responded to a rear parking lot of the Buccaneer Bar regarding a fight in progress.  Officers detained two subjects; further investigations revealed that one of the subjects assaulted the other patron in the bar.  The Los Angeles resident was arrested for public intoxication and transported to Pasadena Police Department Jail for booking. 
1:00 PM- Petty Theft, 611 E. Sierra Madre Blvd, Sierra Vista Park.  This case involves a theft investigation of a victim's property from her car while parked.  The victim reported that she left her wallet in the rear trunk area of her SUV.  Later, the victim discovered that her Debit card had a $1.00 charge. It was unknown if the vehicle was left locked. The vehicle was dusted for finger prints.
8:05 PM- DUI Alcohol/Drugs, 300 blk. E. Grandview Ave.   An officer stopped a motorist for a Vehicle Code violation, and determined that the driver was under the influence of alcohol.  The Sierra Madre resident was arrested and taken to the Pasadena Police Department jail for booking.