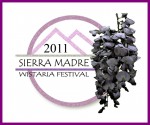 The Sierra Madre Chamber of Commerce has announced the entertainment lineup for the Wistaria Festival, March 20th.  Fifteen acts have been booked to perform at five outdoor stages, including the Vine itself.  Many of the acts are returning acts, but several are new performers to the Festival.  Special thanks to Tim Tutwiler, who is serving as Entertainment Chair this year, and booked all the bands.
Partial List of Entertainment for the 2011 Wistaria Festival
If the band/act name is blue, it's a link to a web page/file where you can learn more about (and in some cases, listen to) the band.
Vine Stage
Ron Longo 9 – 11am
Michael Zubia 11am – 1pm
Ron Longo 1 – 3pm
Dick Bertrand 3 – 5pm
Kersting Court Stage
Banna Beag Mall 9:30 – 10:30am
Bruce and Pamela Forman  11am – 12:30pm
Michael Zubia  1:15 – 2:30pm
Len Mendoza  3 – 4:30pm
Jailhouse Inn Stage
Tremoloco  11am – 12:15pm
Chico's Bail Bonds  12:30 – 1:30pm
Homegrown  1:45 – 2:45pm
? And the Wistarians  3 – 5pm
Charcuterie Stage
Gem City Jazz Cats  11am – 12:15pm
Ocho X  12:45 – 2pm
Dave Shelton 2:30 – 4:30pm
Memorial Park Stage
Emcee: SierraMadreSue Behrens
Horses on Astroturf 12noon – 1:15pm
Snotty Scotty and the Hankies  1:45 – 2:45pm
Aluminum Marshmallow  3 – 4:15pm
All-star Jam in the park, 4:45 to 6
Additional between act entertainment provided by students from Alverno High School
 Acts, Times and Stages subject to change without notice.