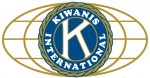 On Tuesday, March 15th the Sierra Madre Kiwanis Club will hear a presentation by the Command Staff of the Sierra Madre Fire Department.  Chief Stephen Heydorff will be accompanied by Deputy Chief John Penido and Battalion Chiefs Bob Burnett, Michael Bamberger and Roger Lowe.  Among the topics which they will address are call activity, the Emergency Medical Program, Fire Prevention, training and staffing.
For many years the Sierra Madre Fire Department was the only all-volunteer department in Los Angeles County.  Over the past few years, the department has been evolving into what is known as a combination department.  This shift has improved the response times of the department considerably.  The chiefs will offer their years of perspective and will answer questions from the audience.
The meeting will be Tuesday, March 15 at noon at the Masonic Temple, 33 E. Sierra Madre Blvd.  The public is invited, and lunch will be served.  The cost for lunch is $11 per person; reservations and exact change are required.  For reservations, please contact Pat Birdsall at 355-7290 no later than noon the preceding Monday. 
Visitors may come for the program only (no charge, without lunch), which will begin promptly at 12:30.
Guests who have difficulty hearing the PA system should bring a portable radio with headphones, and tune to 104.7-FM to hear the PA sound.