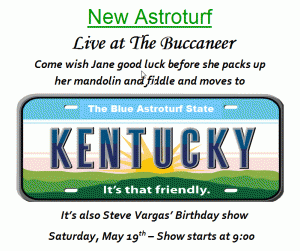 Posted 5/17/12 – hey Buccaroos! Music Saturday night and Sunday afternoon AT THE BUC this weekend!
SAT. 5/19 – NEW ASTROTURF celebrates Steve Vargas' Birthday and bids farewell to mandolin/fiddle player Jane Frimodig as she is moving to Kentucky to save the world thru stem cell research! Show starts at 9:00pm.  (flyer attached)
SUN. 5/20 – SNOTTY SCOTTY & FRIENDS play from (approximately) 1:00 to 4:00pm for your drinking and listening pleasure! and yes there will be fabulous prizes!!!