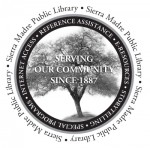 Press Release posted 5/24/12 – "Dream Big – Read!" is the theme for Sierra Madre's eight-week 2012 Summer Reading Program, which runs from Monday, June 18 through Saturday, August 11.  There are programs for all age groups, including adults. Come in and register any time during this period and win prizes along the way.
In the children's program, each child will receive a reading log, bookmark, and a theme-related book bag at registration.  Age-appropriate books, read at home, are recorded on the log, and a prize is awarded after the weekly reading requirement is met.  Children may enter one of these divisions: Night Owl, for our very youngest patrons who do not yet read on their own; Dreamer, for school-age readers in Grades 1 – 6; Challenger, the most demanding division, for children in Grades 2 – 6, in which 35 hours of reading must be completed in eight weeks.
"Own the Night" is the special theme for the teen division of the program. Participants read eight books by the end of the program and earn prizes for every two books read.
Library patrons 18 years of age and up are invited to join the Summer Reading Program for Adults. Participants will automatically be entered into the Grand Prize Drawing once they have submitted their first title read (book, eBook or audiobook) to Library staff.  There will be weekly drawings for all participants with increased chances to win per number of books read.  A book bag gift set will be given to the first 40 registrants. Drop by the Library for information on the program rules and guidelines.
Teen volunteers in Grades 7 and up are needed to help with the Summer Reading Program.  Volunteers work at least two hours per week for eight weeks, helping with the program and performing other light tasks during their shifts. Sign up at the Library between now and June 18.  This is a great way to fulfill community service hours and meet new friends.
The Summer Reading Program is supported by the Friends of the Library and the Sierra Madre Firefighters Association; the Sierra Madre Kiwanis Club sponsors the Children's Challenger Division.
The California Summer Reading Program is a project of the California Library Association, supported by the U.S. Institute of Museum and Library Services under the provisions of the Library Services and Technology Act, a federal grant program administered inCaliforniaby the State Librarian. 
For more information, please contact Sierra Madre Public Library Youth Services Librarian, Meegan Tosh, at (626) 355-7186 or mtosh@cityofsierramadre.com. The Library is located at 440 W. Sierra Madre Blvd., in Sierra Madre. www.sierramadre.lib.ca.us.