Rotary Children's Library Room Ribbon Cutting Today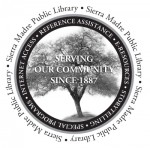 Press Release posted 6/7/12 – Join us for the grand opening and ribbon cutting of the beautiful new Rotary Children's Library on Thursday, June 7, 2012 at 6 p.m. in the Sierra Madre Public Library.
Improvements include the removal of an emergency exit, replacement of windows, bookshelves, furniture, paint and carpet. The layout of the room has been changed to create a preschool zone, study zone and computer /technology zone. Funding for the updates came from private donations raised during a year-long fundraising drive. The ribbon-cutting will take place just in time for the Summer Reading Program which starts on June 18. The Library is located at 440 W. Sierra Madre Blvd., Sierra Madre, CA 91024 (626) 355-7186.