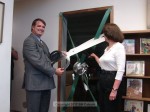 Posted 6/10/12 – On Thursday, June 7th, more than a hundred people turned out to celebrate the opening of the Rotary Children's Library at the Sierra Madre Public Library.  Formerly the Children's Library Room, the Rotary Children's Library has undergone a major upgrade, with financial assistance from numerous individuals and organizations throughout the community.  Improvements include the removal of an emergency exit, replacement of windows, bookshelves, furniture, paint and carpet. The layout of the room has been changed to create a preschool zone, study zone and computer /technology zone.  Rotary, which donated the largest amount at $20,000 was also a major contributor when the front of the Library underwent a major re-design.
The greater part of the ceremony was dedicated to thanking the contributors, either with yellow roses or certificates, or both.  In addition to Rotary, contributions great and small came from everyone from children donating $1/sentence to be part of a book created by Dorothy Costello for the project, to folks who gave in memory of the recently deceased Shirley McGillicuddy and Midge Morash, to the Sierra Madre Community Foundation and the Mary Tumilty Endowment Fund.  As Director of Library Services Carolyn Thomas noted, the project began with a grant called The Family Place Grant.  " This is a community funded Library, thank you, all of you," said Thomas, adding "From children to adult citizens of the community, everyone contributed.  When asked, residents came forward with their donations, and now we have this beautiful space in the library.  You are aware that Ray Bradbury passed away this week.  His career began with a lifelong relationship with the public library and his books touched on themes that advocated against censorship and for the freedom to read.  It is our hope that all of you, your children, and members of the community will find the library a place to develop such a relationship."
Mayor Josh Moran noted that "Our library was loved just as it was, and we had the challenge of keeping the best of the old while incorporating the best of the new and I think this new Children's Library has met that challenge."  He then led the crowd in three cheers for the people who spearheaded the work and the staff of the library, "because it's so rare that we're in the library and we get to yell."
Refreshments were provided by the Friends of the Sierra Madre Public Library, and there was a ribbon cutting with Rotary President Tom Brady and Project Funding Chair Patricia Hall cutting the ribbon to open the room.
Click on a photo to see a larger version of the image in the photo gallery below the video of the ceremony.