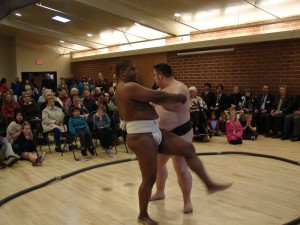 Despite a last minute change in venue, the Japanese Cultural Night on Friday overflowed the recently renovated Sierra Madre room as folks came out to show their support for the Japanese, recently devastated by earthquake, tsunami and nuclear radiation leaks.  While they were at it, they got to see US Sumo wrestling champs (past and present), a demonstration of classical Japanese Taiko drumming, and hear from Sierra Madre's Mayor and the Consul General of Japan in Los Angeles.  There was also Japanese food available, and the Red Cross was on hand accepting donations for the relief effort in Japan.
The event, originally timed to coincide with a visit to America (and Santa Anita park) by officials from a race track in Tokyo, was to be a celebration of Japanese culture.  After the catastrophic events in Japan, there was discussion of cancelling the event, but ultimately it was decided to go forward with the event, albeit in a modified format, and as a fundraiser for relief efforts.  A recreation of a Samurai battle scene was scrubbed, as was an appearance by the Centurian Sumo Club.  However, former U.S. Sumo champion Troy Collins and 5-time U.S. Sumo champion Dan Kalbfleisch filled in for the Sumo club, giving a brief educational presentation on Sumo, followed by a couple "real" matches.  Then they invited local kids in to wrestle against the champ, creating memories these kids will carry with them the rest of their lives.
Mayor Joe Mosca spoke briefly, noting that City employees had pulled together to donate nearly $1,000 for the relief effort.  The Honorable Junichi Ihara, Consul General of Japan in L.A. also spoke expressing his gratitude for the outpouring of sympathy and generosity shown to the Japanese by the U.S. and other countries around the world.  Library Trustee Pete Siberell gave some background as to how the event came into being.  It was decided on Friday morning to change the event venue from Memorial Park to the Sierra Madre Room due to weather concerns, but it appeared the word got out, as the room was filled to overflowing.
Following the wrestling demonstration and the speakers, the crowd enjoyed an impressive performance of classical Japanese Taiko drumming by the acclaimed Hiroyuki Hayashida Taiko Trio which rounded out the evening's activities.
Here is about 40 minutes of video, including the sumo demonstration, some of the drumming, and the speeches by Mayor Mosca, the Consul General and Pete Siberell.