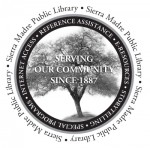 Press Release posted 7/6/12 – If you are one of the many area residents who will travel to one or more of the 397 national parks, monuments, battlefields, and historic sites in the National Park system, then you should start your trip at the Sierra Madre Public Library.
Christopher K. Jarvi, former Associate Director for Partnerships and Visitor Experience for the National Park Service (NPS), will share little known facts and unique personal stories at 10 A.M. on Saturday, July 14 at the Sierra Madre Public Library.
Blending his experiences with beautiful visuals of the National Parks, Jarvi will take his audience on a behind the scenes tour of our most important natural sites, relating stories of their colorful history and their future challenges. July is National Parks and Recreation Month.
Jarvi has personal ties to Sierra Madre. His mother grew up in a house on the corner of Sierra Place and San Gabriel Court, his grandmother Ethel Davis owned the building in which the Safeway store was located, at about where Windsor Lane intersects Sierra Madre Blvd, and his uncle Loren Krabill ran the Green Frog Market, now the location of Taylor's Meats.
During his tenure with the NPS he had nationwide responsibility for Partnerships and Philanthropy, Interpretation/Education, Media Development, Volunteerism, Tourism, Youth Programs, Technical Assistance, Long Distance Trails, Wild and Scenic Rivers and, the Appalachian National Scenic Trail.
Jarvi served as the president of the California Parks and Recreation Society and the president of the National Recreation and Park Association.
The Sierra Madre Public Library is located at 440 West Sierra Madre Boulevard in Sierra Madre. For more information please call (626) 355-7186, or visit our website: www.sierramadre.lib.ca.us.