Press Release posted 4/20/13

 
Cupcake Girl by Terry Miller
WHAT: The twisted sister of the other Pasadena parade, takes its own brand of raucus eccentricity East.
WHEN:  Saturday, April 27th, parade steps off at 11:00 am.
WHERE: The parade starts at Vinedo St. and Colorado Blvd., goes in both directions, on Colorado, between Altadena Dr. and San Gabriel Blvd. Bring your lawn chairs and grab a good spot.
OTHER INFO:Plenty of free parking in the surrounding area. Featuring All-American festival food at down home prices at the Robin's Woodfire BBQ Booth centrally located on the parade route. Signature 2013 Doo Dah T-shirts, get one for the whole family. After parties galore!
COST: Absolutely Free
Featuring: Dozens of inventive, if zany, art cars and floats will accompany a legion of frolickers past the mom-n-pop shops along East Pasadena's shady tree-lined streets. Led by this year's Queen Susann Edmonds and Grand Marshal Alan Zorthian, spectators will be startled and amused by public radio personality, Sandra Tsing Loh, with her LOH Down on Science, Flying Baby Hammer, A Moveable Feast (based on a Hemingway novel), Worlds Tallest Girl Scout, Jiffy Pop! The Bearded Ladies, The Billionaires, Johnny Skunk & his Skunkmobile, The BBQ & Hibachi Marching Grill Team, L.A. Derby Dolls, Veggies of Laguna Beach, Zombie Training Camp, Champion Sign Twirlers, Dr. Steele & the Army of Toy Soldiers, and the immortal Doo Dah House Band, Snotty Scotty & the Hankies and much more! Known as the twisted sister of the conventional Rose Parade, the Occasional Pasadena Doo Dah Parade began as a grassroots event in 1978 to gain national attention for its eccentric and, often, irreverent satire. The parade which has spawned numerous off-beat replicants across the country was named by Readers Digest as "America's Best Parade," and was recently featured in the book 50 Places You Must Visit Before You Die!Yes, another Doo Dah is here to help you forget your humdrum existence!Contact: To still enter the parade simply go to the website and get your entry form there, and please call us at (626) 590-1134; Public Parade Information Hotline: (626) 590-7596.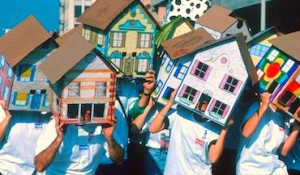 Synchronized Housing Drill Team

by Joseph Messinger
36th Occasional Pasadena Doo Dah Parade!  Saturday, April 27, 11:00am Entry Forms and information to be found on the website:  www.pasadenadoodahparade.info